Monthly Archives:
July 2017
In researching other games in the arcade flight sim genre, I couldn't help but notice that I had a hard time telling them apart at first glance. My original concept art seemed to mimic the same, reaslistic-ish style, and in an effort to stand apart visually I've decided to reapproach the design of the aircraft.
I've been a fan of previous games like Metal Slug, and Raiden simply because their aircrafts design were somewhat fresh and imaginative, yet still pretty fun and not-so-serious looking. I'm gonna go that route, instead. Here's a first look at some attempts to move in that direction, and it feels GOOD! I'll see if I can bang out a few other prototypes soon.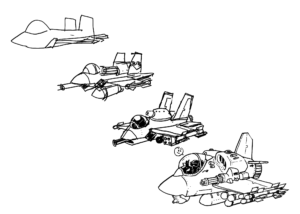 Hey all, it has been a little quiet around here, but for good reasons. I had to step out and join the real world for a bit, working at a bank as a software developer to run up some much needed revenue. Raising kids in Orange County is expensive, and Patreon wasn't cutting it, though if you can spare a couple dollars a month, please consider donating!
But, I'm back in the saddle again. The office is groomed, reorganized, and ready for the daily grind. I'm running on getting TigerHawks built while also completing an ongoing project for a client, Traitors Legacy. Expect more updates soon, I'm going to attempt to add something every other day.
Also, keep an eye out for a Twitch TV stream coming soon, in case you feel like watching me meander through art, animation, and code while trying to distract me.